1. InstaView
LG's InstaView refrigerator features a transparent window over the top-right door of the fridge that let you peek inside without opening the door. With two quick knocks, this mirror glass panel lights up and gives you a view inside. Since you no longer have to open the fridge often just to see what's inside, the cold air flow decreases and the internal temperature remains constant, which will keep your food fresher for longer and save you a few bucks on your electricity bill.
LRFVS3006S 36″ Smart French Door Refrigerator with 29.7 cu. ft. Capacity Craft Ice Maker InstaView Door-in-Door Tall Ice and Water Dispenser in
2. Door-in-Door©
The Door-in-Door© refrigerator from LG is furnished with a convenient compartment behind an outer panel where you can store frequently-used items for easy access. If you want to grab your favorite drink or snack right away, all you have to do is to open the outer section at a push of a button without opening the fridge completely. This is an energy-saving feature as it minimizes internal cold air loss by opening the entire refrigerator less frequently, thus your food will stay fresh longer.
InstaView and Door-in-Door© refrigerators are a great addition to the kitchen for those who love convenience and want to save on utility bills. If you have children who keep on opening and closing the fridge all the time, these features can help minimize the habit.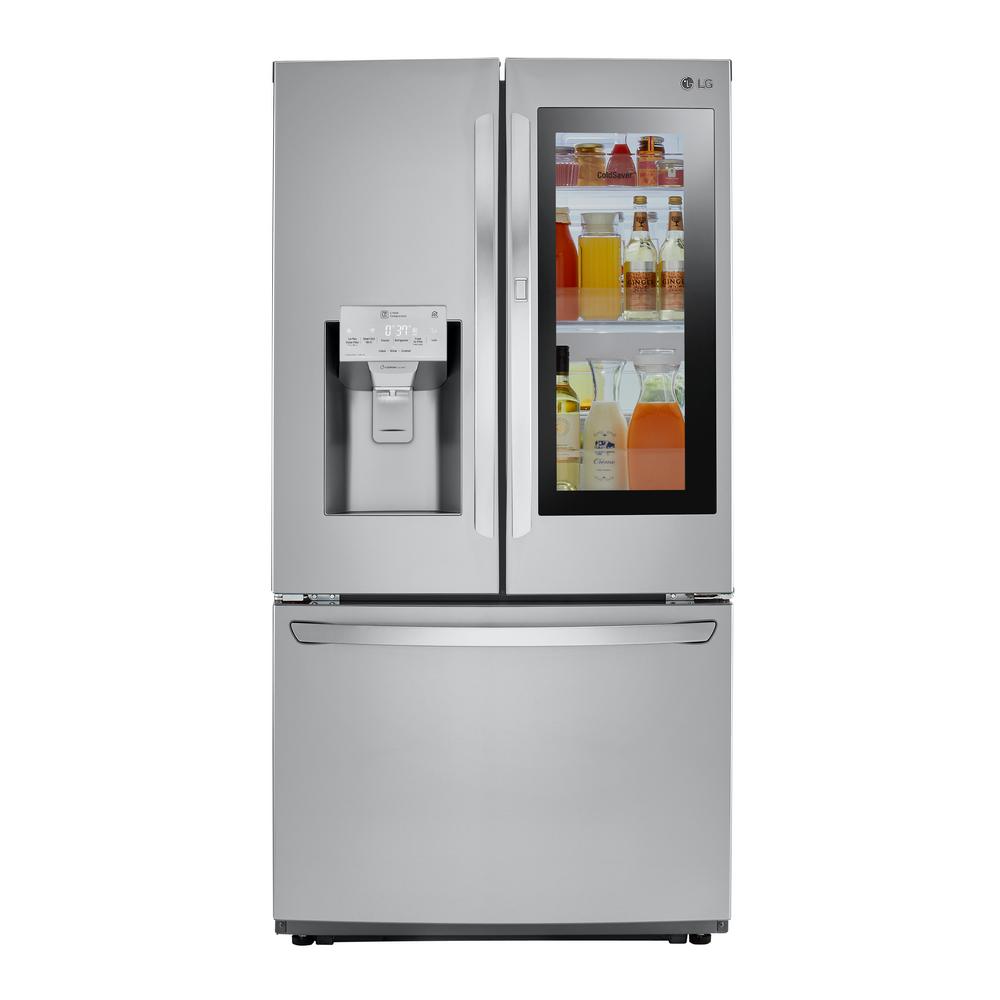 3. Hygiene Fresh™
Hygiene and food safety are important when choosing a refrigerator. Since this appliance carries the food we eat, great attention should be given to the hygienic condition of the refrigerator. To prevent foodborne illnesses caused by microorganisms, refrigerators should also be cleaned and ventilated on a regular basis.
The Hygiene Fresh™ feature in LG refrigerators offers excellent air purifying performance. Its 5-layered filter system, equipped with a UV light and photocatalyst mechanism, offers powerful sterilization, antibacterial and deodorization functions. This new filter system sucks contaminated air from the fridge and automatically cleans and purifies the internal air, keeping it fresh and hygienic. It can effectively remove bad odors from rotting vegetable or fish, reduce dust, fungi spore, and get rid of harmful bacteria, ensuring that your food stays fresher, healthier and longer.
This innovative feature can be a great partner in the kitchen in preventing bacterial growth on the food inside the fridge and in protecting the family from foodborne diseases. While it works best for everyone, it is especially useful for busy working moms as the Hygiene Fresh™ feature virtually eliminates the need for routine cleaning.
4. Alert System
If you have toddlers to care for, it is best to invest in a refrigerator equipped with an alert system such as the GE Profile. Powered by SmartHQ™ and LG's Door Alarm and Child Lock, you will be notified when your refrigerator door is left open, your water filter needs to be changed, your fridge temperature is too high, and your icemaker is full or empty. This alert system is useful because you no longer have to keep a close eye on your fridge while you focus on taking care of your little ones.
LFXS28968S 36″ Energy Star Qualified French Door Refrigerator with 27.9 cu. ft. Total Capacity SmartThinQ Technology Slim SpacePlus Ice System and
5. Craft Ice™ Maker
Dreaming of having clear ice at home? Before, the simplest way to make this premium ice at home was to invest in an expensive ice machine or to use time-consuming molds. But now, thanks to LG, they introduced refrigerators that make fancy slow-melting craft ice balls. Their new iceboxes can automatically make 2-inch diameter upscale ice in 24 hours without the work and the fridge can hold up to 25 spheres at a time. Since crystal-clear ice melts more slowly than ordinary fridge ice, they are ideal for bourbon, scotch, whiskey and craft cocktails as they won't dilute drinks as quickly as regular ice cubes.
Craft ice, by its slow-melting nature, is also best for first aid. Ice is used as first aid for athletic injuries such as stretched muscles, joint sprays, bruises, shin splints, and even tendinitis. Apply it for 15-20 minutes and ice will relieve pain, prevent swelling, and decrease muscle cramps.
If you enjoy craft drinks in the comfort of your home or you are an active athlete, a fridge equipped with a craft ice maker is an ideal investment for you.
LRMVC2306S 36″ PrintProof Stainless Steel Counter Depth 4 Door French Door Refrigerator with 22.5 cu. ft. Capacity Instaview Door in Door Fully
6. FRESH Balancer™
We all want our vegetables and fruits to stay fresh for longer. With LG's unique FRESH Balancer's™ function, the moisture balance in the refrigerator can be maintained, thus keeping vegetables and fruits in optimal condition and prolonging their lifespan. With just a simple switch, the humidity is set to the right amount and is optimized by sealing the vegetable box. If you are a vegan or vegetarian, this innovative feature will do the work in setting the right or optimal temperature for your vegetables and fruits.
7. TwinChill™ Evaporators
Some typical refrigerators use a single evaporator which is harmful to many foods. This is because the temperature and humidity requirements in the freezer and fresh food compartments differ. The TwinChill™ evaporators in some French door refrigerators such as in GE have dual cooling system that cools two compartments independently. This flexibility helps maintain the desired temperature and humidity levels in separate environments to keep food fresh for longer and prevent food smell from mixing. It also helps save energy by making the compressor cool only the section that needs to be cooled. If you want to save on electricity bills, consider this innovative feature the next time you buy a refrigerator.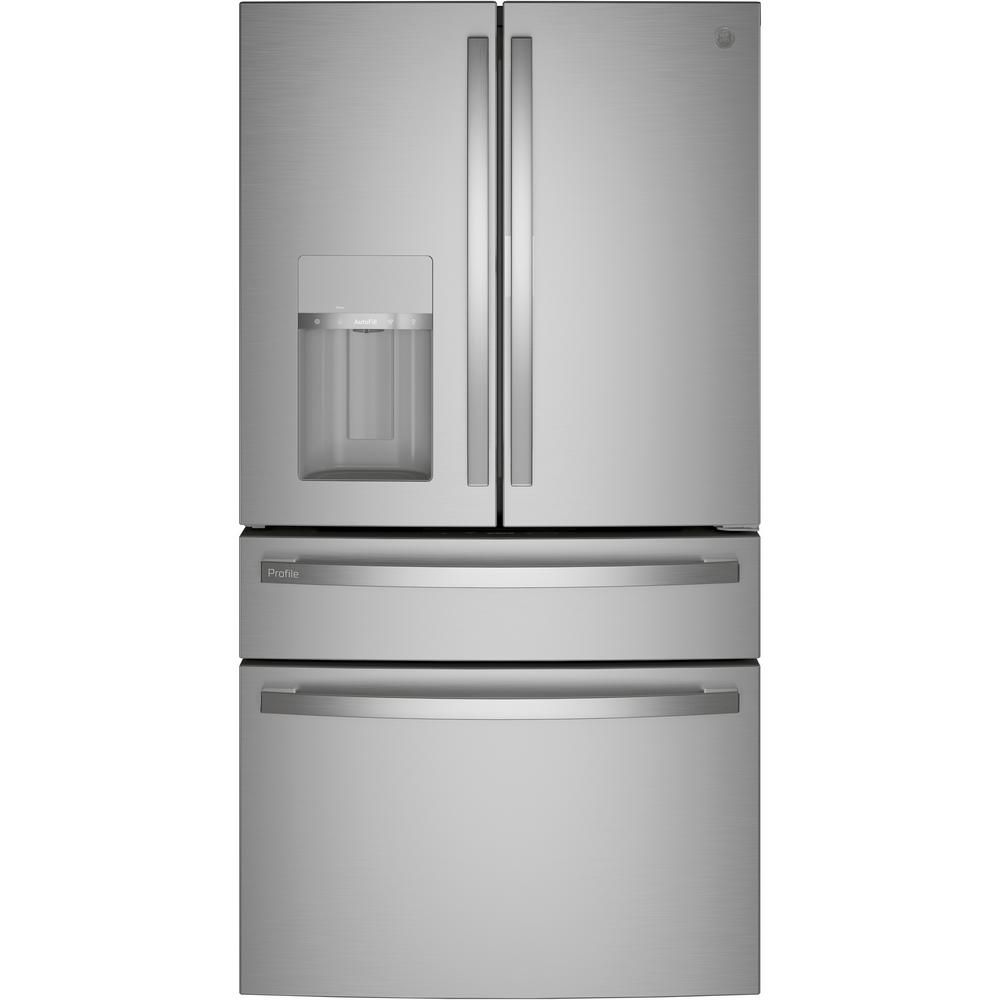 8. Wi-Fi
If you are always travelling or on the go, a smart refrigerator is suitable for you. With a wi-fi-enabled fridge, you can be connected anywhere you are. A refrigerator connected to your smartphone via the internet offers tons of conveniences. It can tell you when its door has been left open, if you're running out of ice, or your milk is expiring. You can also ask it while you're at the grocery store if you need to get more items for your fridge like eggs, cheese, or milk. You can also see what's inside your refrigerator, adjust the temperature, control the icemaker and air filter, initiate water heating, schedule hot water for coffee, and access other modes. Creating shopping lists, ordering groceries, sending and receiving notes, sharing calendars & photos, searching for recipes, watching TV, streaming music, and a lot more are all possible. You can even use both Alexa and Google Assistant to ask about the fridge status.
Samsung, LG and GE manufacture smart refrigerators with connected features. Do some research on their various models and find out what works for you.
RF28N9780SG 36″ French Door Refrigerator with 27.9 cu. ft. Total Capacity Built in Wi-Fi Internal Camera Family Hub Ice Master and LCD Screen
9. Power Freeze and Power Cool
Samsung's Power Freeze and Power Cool functions speed up the cooling time of fresh food in your freezer or fridge. Power Cool quickly cools your favorite food, groceries, and drinks in the fridge, while Power Freeze delivers a quick puff of cold air into the freezer, which is great for freezing or firming up frozen foods and making ice. Using Power Freeze increases energy consumption, so make sure you turn it off when you no longer need it.
If you buy fresh food in bulk on a regular basis, it is best to have a refrigerator with Power Freeze and Power Cool feature to keep the optimal freshness of your food especially those that spoil easily.
10. Anti-Bacterial Protector
The Anti-Bacterial Protector feature in Samsung refrigerators uses a built-in fan to blow air through a sterilizing and deodorizing filter which effectively kills germs and purifies the air to remove unpleasant odors. This function provides a clean environment for vegetables, fruits and other perishable products, keeping your food fresh and your family healthy. When you buy a refrigerator with this unique feature, you will have peace of mind knowing that your food is safe and free from harmful bacteria.
11. Auto Filling Pitcher
Staying hydrated is beneficial to physical and mental health. It gives the body more energy throughout the day. Research shows that drinking cold water has benefits, contrary to the popular belief that it can harm long-term health. Cold water is an excellent workout partner. It can improve performance and endurance during exercise and protect the body from overheating, especially in hotter environments. It also removes toxins from the body and helps in staying alert.
With these health benefits, it is important to always keep cold water in the fridge. If you're frustrated that your water pitcher is constantly running out, consider buying a refrigerator with an Auto Filling Pitcher. Samsung's refrigerators feature a built-in pitcher that automatically refills water by simply applying the auto water refill setting on the control panel. By having this feature in your fridge, you can be sure that fresh and cold water is always ready when you need it. You can even make refreshingly-flavored water by adding lemon, lime and cucumber to the pitcher.
If you're a busy working mom who barely has time to check the pitcher every now and then, this feature will come in handy for you.
12. Refreshment Center™
If you are a wine lover, the new Bosch refrigerator featuring a Refreshment Center™ is best for you. Equipped with pre-programmed temperature and humidity settings, it will help you in setting the optimal temperature for your wine, craft beer, champagne, fruit juices and other beverages. It is like a wine cellar in your fridge with sleek, easy-to-access glass display drawer that can hold different bottle sizes and shapes. This clever innovation is useful for staying organized when you want to free up space in your fridge.
13. Custom-Flex® Temp Drawer
Do you have a limited kitchen space? Frigidaire's Custom-Flex® Temp Drawer is designed to aid you with your daily storage needs. This convertible drawer switches from fridge to freezer with temperature ranging from -6 to 45 degrees. Not only does it offer extra space right in your kitchen, but it also offers the temperature needed to keep food and other family favorites fresh. This flexible drawer can be used to store groceries, cans, yogurt, beer, ice cream cake, veggie, fruit or deli tray and even extra-large pizza boxes. It can also function as an extension of your crisper or meat drawers with its freezer option.
14. Drink Loft™ Overhead Storage
The Drink Loft™ overhead storage in Whirlpool refrigerators is a flexible and accessible hide-away shelf that allows you to keep items in the fridge organized. In this shelf, you can hang cans of beverages overhead, creating space below for large flat items. If you have a limited kitchen space and are looking for a refrigerator that lets you make the most of the space, this feature is perfect for you.
15. Smudge-Proof™ Stainless Steel
Stainless steel appliances are quite a challenge to clean. With Frigidaire's Smudge-Proof™ and fingerprint-resistant stainless steel refrigerator, you can keep the shiny and metallic finish free of fingerprints and smudges, making cleaning easier. This unique feature eliminates the need to clean as often as with ordinary stainless steel and no special cleaning products are required. If you are a working mom who are busy to clean the fridge regularly, you'll definitely love this Frigidaire EasyCare™ stainless innovation.
FPSC2278UF 36″ Side by Side Refrigerator with 22 cu. ft. Capacity SpaceWise Organization System Multi-Level LED Lighting in Smudge Proof Stainless
What refrigerator feature are you looking forward in the near future? Please leave a comment down below.
Please be advised that this post contains affiliate links and any sales made through such links will incentivize me a small monetary compensation at no extra cost for you. This will help we create more useful content for you!