34 house structure parts you probably didn't know have names. Increase your vocabulary with these sample pictures and get familiar with these architectural jargons.
by
Leif Price
Chirpy Home
9-7-2020
Are you planning to build your dream house or to refurbish an existing one? I suppose you're one of those who find it difficult to point out architectural details accurately. Don't worry, here's a bunch of definitions for parts of the house that can help you get yourself familiar and impress your builders with these architectural whatchamacallits.

Update: Most of you are asking for a list of house parts names, so we have created a list that a child and a middle schooler should know. Coming in a few days will be for Adults. It is a huge list so please follow us or subscribe to our blog!

---
1. Porch
If you plan to improve the aesthetic of your home's exterior, having a porch added can be a good idea. A porch is an elevated, roofed, and open-sided structure attached to the exterior of a house, either in front or at the back, that serves as a sheltered entryway. As an arm of the house that stretches out to the outside, it is often utilized as a place to relax, enjoy fresh air, and entertain guests. It offers practicalities as well such as an additional security to your home being another barrier from the outside, an ideal place to get ready to leave or enter the house, a storage space for shoes, coats, and accessories, and a buffer zone from the bad weather.
2. Loggia
A loggia is an Italian word that refers to the antiquated American porch. It is a sheltered outdoor extension of a house similar to a porch, but is distinguished by arches and columns supporting the outer wall. If you're dreaming of a home that is bright, airy, and with a perfect Mediterranean look, make sure to include a loggia in your architectural plan.
3. Den
A den is a small, cozy, enclosed, and informal part of a house that is suitable for daily use. It is a multi-functional area where you can do your own activities privately, relax, or have fun. Typically, there is no definite purpose for this room. In some houses, you might find a home office or even a library while in homes without special family rooms, this spot is used for movie and game nights, hobbies, or just for quiet relaxation. When decorating this room, you can incorporate personal details and fun elements to create a warm and inviting ambiance.
4. Parlor
During the 19th century, a parlor was the focal point in mansions and large Victorian houses that's specifically designed to receive and entertain guests. Traditionally regarded as a symbol of a family's social and financial status, this wide-open space was filled with tables, a fireplace, a sitting area, and decorated with finest works of art and furniture. In modern use, a parlor refers to a formal sitting room in a mansion while in other modern homes, it has been replaced with the living room because several elements of the historical parlor room can be found in the current living room set-up.
5. Snug
A snug is a room concept that characterizes a small, warm, and comfortable spot in a house where you can chill out, snuggle, and retreat for comfort and peace. This space is suitable for activities such as taking a nap, cozying up by the fire, sipping hot chocolate, and reading a book. If you want your room to offer you comfort after a hard day at work, embellish it with a fireplace, wood panels, warm colors, mismatched furniture, and sentimental ornaments to achieve a rustic and cozy feel.
6. Panic Room / Safe Room
To ensure protection inside your house against invulnerable intrusion, threats, or severe weather conditions, you can integrate a panic or safe room into your house plan. It is a fortified room with CCTV screens, communication equipment, and other high technology structure that provides a safe shelter in the event of home invasion, terror attack, tornado, flood, and other weather-related catastrophes.
7. Granny Flat
A granny flat is a fully self-contained extension of a house built in the same yard as the main house. It is like a mini apartment with own entrance, living space, kitchen, and bathroom that can be attached or separated from the main house. As the term suggests, granny flats generally accommodate ageing people like parents and grandparents but lately, they have become a popular investment property to be leased out. If you've always wanted an extra space around the house to look after older family members or an additional income, a granny flat is perfect for you!
8. Inglenook
An inglenook is a sitting area beside a fireplace. It became popular during the Middle Ages and also known as a chimney corner. This spot serves as a decorative element in a house and a cozy place to curl up, or read your favorite book while sipping a hot cup of coffee or tea.
9. Solarium
If you're the type of person who adores the beauty of the outdoors, you'll love having a solarium in your own house. A solarium is an enclosed room with walls and roof built entirely of glass. It is brightly lit and heated due to exposure to sun's rays and provides maximum views of the surroundings from the inside of a house. If you want to bask in the outdoors without leaving the house, a solarium is a great addition that will spruce up your home too.
10. Enfilade
Have you noticed the series of doors that you pass through in museums and art galleries with one uninterrupted sight line? That set of interconnected rooms is known as an enfilade and was a common home arrangement during the Baroque period.
11. Foyer
A foyer is an area behind the front door that connects the entrance of a house to other rooms. It is the spot where you greet and receive your guests upon entering the house. Usually, it is spacious enough to be decorated with furniture and accessories such as carpets, console tables, framed mirrors, wall art, vases, candles, DIY crafts, and other amazing accent pieces.
12. Kite Winder
In two-storey houses with inadequate space, winder stairs are more popular because of smaller space requirement. Winder stairs don't have a flat rectangular turning space; hence, winders are used instead. Winders are steps that are narrower on one side than the other and are used to change the direction of the stairs without landing. When three wedge-shaped steps are used to make a 90-degree turn, the middle step which is a kite-shaped quadrilateral is called a kite winder.
13. Scuncheon
Tell your builders that you're particular that the scuncheons in your house be extra smooth and polished and I bet he'll look back at you in awe. Scuncheon refers to the inner face of a window or door jamb, or the width of a wall that is exposed or not occupied by a window or door frame.
14. Lites
Do you have a special interest in glass windows and doors? Then, you need to know what lites, muntins, and mullions are. Lites are small, separately framed panes of glass in windows, doors, and cabinets. In order to reduce the size, amount, and cost of the glass needed, a window or door is usually sectioned off into many lites with the use of muntin bars.
15. Muntins
A muntin, also called a muntin bar, glazing bar or sash bar is a narrow strip of wood or metal placed inside a window or door frame to divide and secure lites. Just an interesting note, muntins emerged until the mids-1800s because a large single pane of glass was more costly than using smaller pieces of glass.
16. Mullions
Much thicker and larger than muntins, mullions are vertical bars used to separate two or more units of a window, door, screen or glass wall. Mullions are mostly structural elements but are also used as decorative details in several architectural styles.
17. Transom
A transom is a horizontal beam or bar that separates the door and the window above it. That window that is set directly above the transom of a door is called a transom window, which is commonly used for cross-ventilation and aesthetic purposes.
18. Louver
A louver is a ventilation product that allows natural light and air to pass through a house or building while keeping rainwater, excessive noise, and debris out. It is a set of angled and parallel blades or slats of glass, wood, or other materials often used in windows, doors, and walls. In order for natural light to get into your house while avoiding the direct sunshine, pick louver type windows or blinds for your home.
19. Oeil-de-boeuf / Ox-eye Window
Have you ever wondered what's the name of that small, fixed, and round window in the upper floors of houses or dormers? That is called an oeil-de-boeuf or ox-eye window, which is largely used as an artistic design and a light source in attics and houses with high ceilings.
20. Lucarne
Lucarnes or dormer windows are typically tall and narrow that project vertically from a pitched roof. To make your attic homier, install a lucarne to bring in light and better airflow, and to create a picturesque home exterior.
21. Scuttle Attic
Did you know that the small entrance to the attic has a name? Yes, it's called a scuttle attic, scuttle hole or attic hatch. It is a square hole in a ceiling with a removable cover that provides attic access. If you're planning to have one in your house, place it in an easy-to-reach spot such as hallways and walk-in closets, where a ladder can be placed so you can easily get up through the hatch.
22. Gable End
One of the classic and most common roofing in places with cold climates is a gable roof. It consists of two roof sections sloping in opposite directions. The triangular or an A-shaped portion of a wall that encloses and supports the edges of intersecting roof pitches is called a "gable end".
23. Gablet
Yes, you're right! A gablet is a small gable or a triangular top set over a dormer window.
24. Cupola
A cupola is a small, tall, and often domed-shaped but can also be round, square, hexagonal or octagonal structure set on a roof ridge of a house or building. They were originally designed to provide ventilation and light to barns and to function as a belfry and belvedere. At present time, cupolas bring interest and a sense of symmetry to a home's roofline.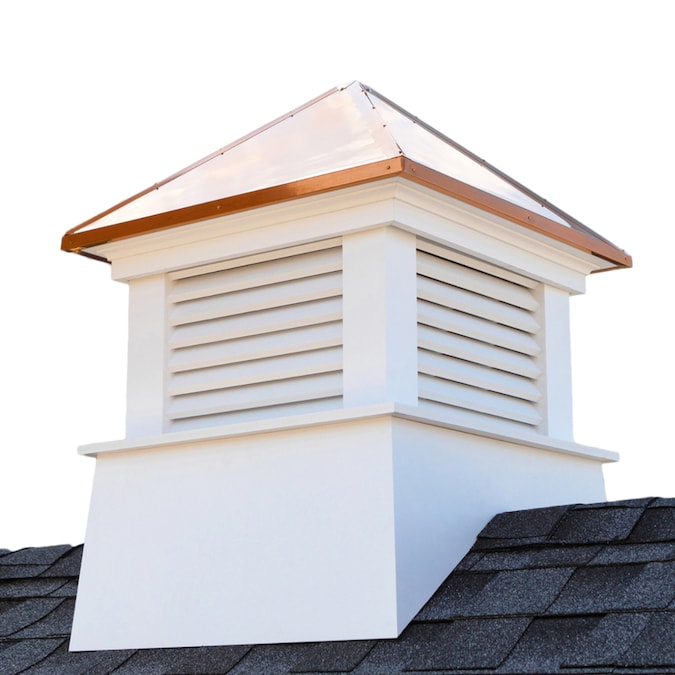 25. Pergola
If you plan to transform your garden into a beautiful outdoor living space, you might consider adding a pergola. This outdoor structure is square or rectangular-shaped built with columns or posts with an open-lattice roof to provide partial protection over a pathway or patio. You can use it as a shaded sitting area or an outdoor lounge where you can relax, enjoy the breeze and sunlight without worrying about sunburn, and entertain friends outside.
26. Arbor
Similar to a pergola, an arbor is a lovely vertical backyard structure but quite small and simple. It is a freestanding latticework that provides shade and shelter for climbing shrubs or vines, often used as an entrance at a garden party in a garden, a gate frame to a garden, and a landscape accent.
27. Gazebo
A gazebo is a charming landscape structure that functions similarly to a pergola as a relaxing place to rest, enjoy the outdoors, and entertain guests. But unlike a pergola, it has a roof that provides full coverage from the sun and mostly have built-in seating inside the sheltered area.
28. Trellis
A trellis is a flat frame of interwoven pieces of wood, bamboo, or metal that supports trailing plants like shrubs, small trees, or vines. It can be detached or propped against a wall or fence. It works as a focal point in a garden and provides shading to the windows and walls behind it.
29. Chiminea
A chiminea is a freestanding outdoor fireplace with a rounded body, a front opening, and topped by a slender chimney. It is usually made of clay, terracotta, copper, cast iron, or steel. It is a beautiful feature to add in your patio or garden to keep it warm throughout the night.
30. Plunge Pool
If you've wanted to have your own pool but you have limited space, a plunge pool is a great alternative. This pool is smaller, shallower and more compact compared to a traditional pool and built for the purposes of lounging, cooling off, and relaxation. Many homeowners prefer it because it is more cost-effective to build, easy to maintain, and requires less water.
31. Slips
Fireplace slips are installed to cover the area between the fire surround and chimney opening. The slip sets, sometimes referred to as 'back panels', come in 3 rectangular pieces made of granite, stone, limestone, or marble.
32. Corbel
If Mediterranean styles appeal to you, corbels should be part of your home's architectural plan. A corbel is a decorative support structure that juts out from a wall and acts as a bracket to hold balconies, roofs, cabinets, shelves, mantels, counters, tabletops, and doorways. It is a solid, three-dimensional triangular piece of material made of wood, stone, metal, or plaster that is similar to upside-down L-shaped metal brackets.
33. Haunch
You will never go wrong with an arch when it comes to architectural details. It never goes out of style, so if you plan to add a Gothic touch to your home, go for an arched doorway or hallway. Did you know that the curving part of an arch has a name – yes, it's a haunch!
Don't worry, it is not a tax! An impost is a part of an arch, a projecting block resting on top of a column serving as the base for the springer or lowest part of an arch.
35. Kite Winder
Winders are steps that are narrower on one side than the other that changes direction, it normally makes a 90-degree turn
35. Fanlight
Mostly seen as a semi-circular-shaped window located above the window or door, its purpose is to allow natural light into a room.
36. Cricket
A secondary roof located on top of the roof, its main purpose is to divert water around a chimney, or exhaust that normally projects out of a primary roof
37. Clerestory
Usually found in the upper rooms, a clerestory is a bank of windows and is usually positioned on the roof area. A clerestory adds natural light and warmth in the room
---